Welcome to Land O' Burns Bengals Shop
*SHOP TEMPORARILY CLOSED  – NO CUSTOM ORDERS BEING TAKEN UNTIL FURTHER NOTICE*
SORRY FOR THE INCONVENIENCE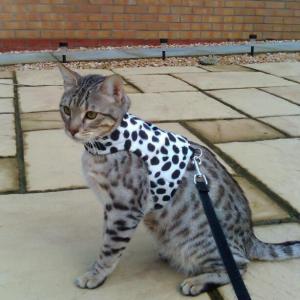 Beautiful Handmade Superior Quality Cat Jackets / Harnesses individually tailored to suit your cat and designed for safety, comfort and appearance.
Available in a large selection of fabrics and colours with a reversible feature, giving you the benefit of two jackets / harnesses for the price of one.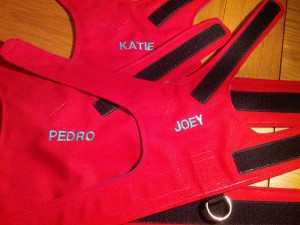 Plus optional personalisation (up to 9 letters) in a selection of threads
For More Info on our jackets and to find out how to get your cats sizes click here
I post WORLDWIDE – if you experience any difficulties while ordering please contact me and I will take your order by email or phone.
Click on the fabric square to see details and photos of the jackets modelled on our cats and previous customer's cats.