Welcome to Land O' Burns Bengals Shop
Beautiful Handmade Superior Quality Cat Harnesses/ Walking Jackets designed for safety, comfort and appearance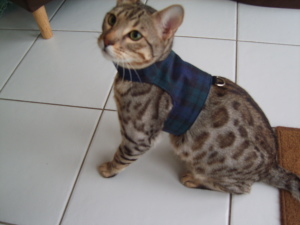 For More Info on our jackets and to find out how to get your cats sizes click here
I post WORLDWIDE – if you experience any difficulties while ordering please contact me and I will take your order by email or phone.
Please visit the Shop  then click on the fabric squares to see details and photos of the jackets modelled on my cats and previous customer's cats
*NEW*
Gift Vouchers now on SALE!
If you would like to get a harness as a gift for someone but don't have size details or not sure which fabric to choose you can now purchase a Gift Voucher which can be spent on anything in the shop
*SPECIAL OFFERS*
From time to time I will have a few selected fabrics on "SPECIAL OFFER" while stocks last. Just click on SPECIAL OFFERS for latest deals.