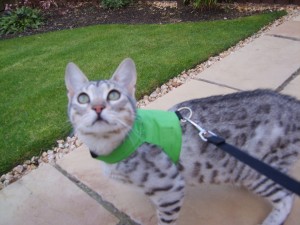 Land O' Burns Bengals Cat Harnesses / Walking Jackets are made to a SUPERIOR QUALITY WITH GREAT ATTENTION TO DETAIL TO GIVE A PROFESSIONAL FINISH AND STANDARD – GUARANTEED
They have been featured in 'YOUR CAT' MAGAZINE, UK and also featured in an episode of GERMAN TV PROGRAMME "KATZENJAMMER" with BIRGA DEXEL (CAT THERAPIST)
My harnesses are designed especially to allow your indoor kitten or cat the freedom of being outdoors in the fresh air but at the same time keeping him or her safe from busy roads or other dangers.(supervised at all times – I do not advise letting your cat roam freely wearing one as they are designed to be escape proof this may put your cat in danger of getting caught on something and being unable to get free) 
They are:-
 Individually tailored for safety, comfort and appearance and made with good quality f

abrics, and made with great attention to detail and stitched several times to ensure durability

A ring is securely attached at the back to affix a lead to take your cat or kitten for walks (lead not supplied)

Reversible –made with patterned/ coloured side of your choice and contrasting reverse side, therefore giving you two jackets for the price of one

Adjustable Velcro fastening to accommodate growth of kitten / cat and for snug comfortable fit with straps around the neck and also the chest behind the cat's front legs

Virtually escape proof provided they have been fitted correctly and securely and you have plenty of velcro fastened together (practising indoors also helps to get your cat used to it)
Secure and comfortable and can be used as a calming harness for nervous cats or as protection to cover wounds  or prevent over-grooming (depending on area affected)
I offer optional PERSONALISATION (up to 9 letters) in a choice of thread colours. If you require more than 9 letters please message me to discuss further. There are various options on how I can personalise your cat's harness which can give you a unique and bespoke product.
It can be PERSONALISED *ON THE PLAIN COTTON SIDE* directly onto the fabric or as a contrasting strip with thread colour of your choice
OR
ALTERNATIVELY I can personalise on the PATTERNED side using a contrasting strip and thread colour of your choice- see example photos on the PERSONALISATION page or on the Fabric pages for this method 
*Please Note: the size of the letters are dependant on the name length and the size of the jacket required*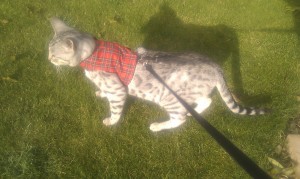 Please complete size details and state whether jacket is for a male or female kitten or cat. Providing the breed of cat and his or her age also helps me to estimate the best size for them and that which they will get most wear out of.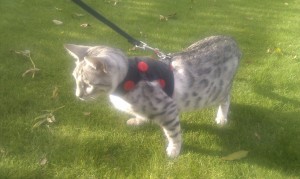 Sizing
To get your cat or kitten sizes, the neck measurement is taken around the neck where you would put a collar and the chest size is measured from behind their front legs. If unsure how to obtain measurements or are having difficulty getting measurements from your cat or kitten please contact me and I will do my best to estimate your requirements. 
Choosing your Fabric
Choose a main fabric from the options available and a few further options will be displayed for the reverse side of your jacket, these have been chosen to complement your fabric choice but if the fabric or colour option you want on the reverse is not listed and you would like an alternative please enter your alternative choice in the special instructions box provided. The jacket / harness can be personalised on either side in most cases.
However all Faux Fur and Fleece fabrics can only be Personalised on the reverse Cotton side. See Personalisation page for more details.
Almost all fabrics require a plain cotton reverse to give the jacket/ harness some stability and it is therefore not possible to have both sides in a faux fur, fleece or patterned fabric. If unsure about your fabric combination email me before purchasing and I can advise you on your options.
Postage
Postage on Cat Jackets within the UK is FREE .
Overseas orders are £4.50 for 1st item and £3.00 per additional item for anywhere outside the UK. 
Buyers are responsible for customs fees, GST etc charged in their own country. Prices do not include any of these fees. 
If you experience any problems while ordering from my website please contact me.
There is an occasional error in the postage system whereby some places within the UK are not recognised as UK and the checkout tries to charge overseas rates. If you are overcharged in this way I will refund the postage costs or contact me and I can send an invoice via Paypal instead.
My apologies for this but after numerous attempts to fix it with no success I have given up!