Personalisation can be added to all jackets / harness with the exception of the yellow and Orange Hi Vis fabrics. Please only enter a name if you have purchased this option. Alternatively you can purchase an optional reflective strip on plain cottons.
Names can be embroidered onto a plain cotton fabric and in most options this will mean the name is on the reverse side and not the patterned side. However I can personalise most cotton patterned fabrics using a plain coloured strip if you prefer it to the name being on the reverse side. (see examples below and on the fabric pages)
I can also Personalise the Plain cotton side using a contrasting coloured strip with your choice of thread colour giving you a whole selection of options and a potential ONE OF A KIND DESIGN.  example shown below (AMBER): is Red cotton with Black strip and RED thread for name. You can choose any Plain colour fabric for your strip (see Plain colours Product) and any colour thread from selection below.
FAUX FURS and FLEECES cannot be personalised and name must be on the cotton reverse side
Names of up to 9 Letters are available (but I may be able to do slightly more depending on the size of the jacket – message me for details).
The size of the font is dependant on the size of the jacket and the length of the name – i.e. the smaller the jacket and the longer the name will mean the font will be smaller and also the larger the jacket and smaller the name will allow larger font
There is a choice of 2 fonts. If you have a preference let me know in the special instructions. similarly if you have a particular thread colour in mind let me know otherwise I will use a colour which contrasts with the patterned side.
Below are a few examples of personalisation. TANZIE and AMBER are done in Gothic font and JASPER and SOPHIE are done in Cheltenham font.  TANZIE on purple is done in Silver Standard  thread, TANZIE on brown is done in Cream/Beige Standard, JASPER is done in Turquoise Standard and Sophie is done in Multi-coloured (Pastels). There are lots more example pictures on the individual fabric pages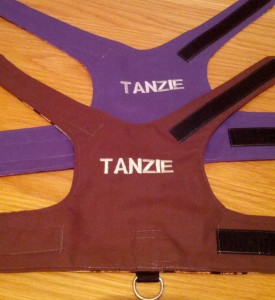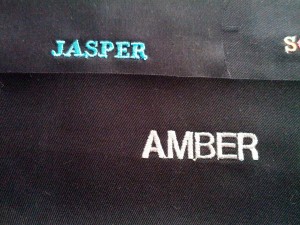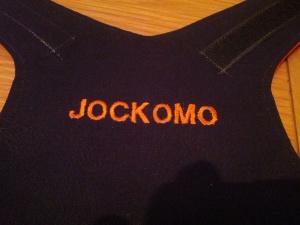 JOCKOMO is Orange thread on Black – ROCKO is White on Black – JOSY and MILA is White on Deep Pink (All Gothic font)
KHALEESI is Multi coloured Pastel on Black (Cheltenham font)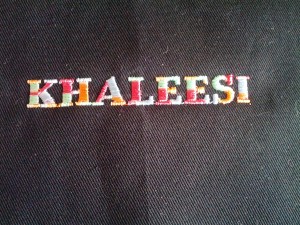 GEORGE is White thread on Royal Strip across Royal Blue with White Stars and HENRY is Pale Blue Thread on Black Strip across Blue Animal Print. BOBBY is Silver on Black strip across Silver Bengal Print, DENNIS is White thread on Red Strip across Royal Stewart Tartan (currently out of stock) and RAINBOW is Black thread on red strip across Black with Red Skulls and also White thread on Black strip across Skulls & Daggers (all Gothic font )- These are just a few examples of how personalisation can be put onto patterned fabrics.
More examples using a contrast strip onto a patterned fabric
Example of Personalised on the Plain cotton side using a contrast strip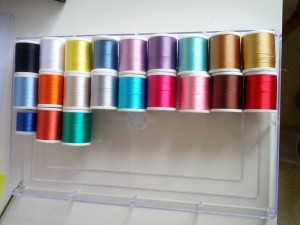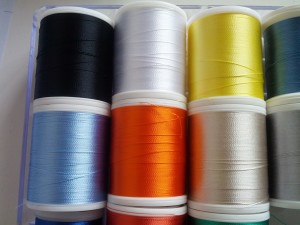 Standard thread colours available – Black, White Yellow, Pale Blue, Orange, Cream/ Beige (Right picture)
Blue, Lilac, Purple, Silver, Turquoise, Deep Pink  (Left Picture)  – Aqua, Lt Brown, Gold, Lt Pink, Brown, Red  (Right Picture)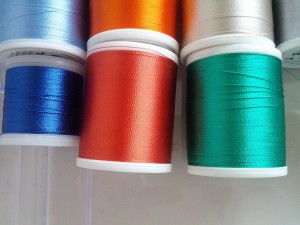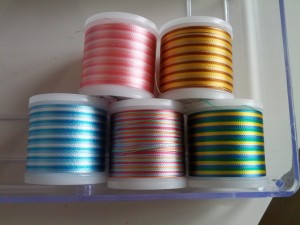 Royal Blue, Rust, Jade Green (Left picture)  –  Multi-Coloured Threads available – Pink Multi, Brown/Gold Multi (top row), Blue Multi, Pastel Multi, Green/Blue/Yellow (bottom row) (Right picture)